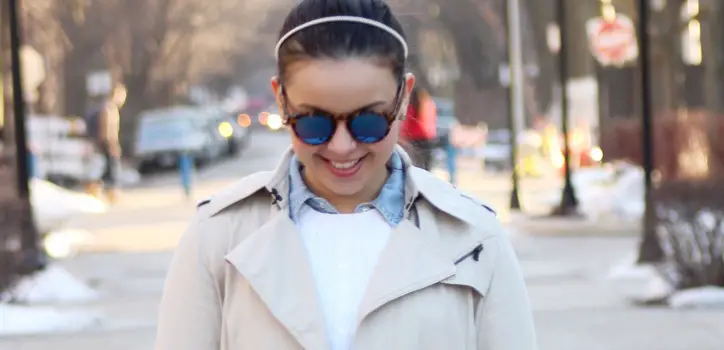 Trenched at DePaul University
Helloooooo!!
Happy Humpday!
 
Welcome to my first post with a DSLR camera! Everything looks better with a blurry background if you ask me! 😉
 
I'm so excited about this little upgrade for my blog, because now Ways of Style is starting to shape like it was originally intended. God's timing is perfect for sure, and I think if I would have waited to have this kind of camera to start the blog it would have never happened. So, I'm very proud of myself because looking back at my first post, where the pics were taken with my iPhone and I had no idea what to write about and, comparing it to right now, it feels like a huge step. Cheers to that!
 
As I mentioned on my post New Year's Resolutions, one of my most important goals for this year is not to compare myself to others and compete with myself only. Trust me, it's much more rewarding and easier to track your goals and achievements. I can't repeat it enough: Do not waste your time comparing yourself to others!
 
We took these pictures at one of the DePaul University Campuses. The lighting was beautiful and I couldn't stop to get a little emotional seeing all the people studying, reading or just hanging with one another. Starting an MBA was my initial plan when I got here. I even took the TOEFL exam and all. I can't explain it, but there was something inside me, telling me to stop and think about it better, because it's a big investment and I'm still not sure what I want to do with my life. I've found that my 20's have been the most confusing time in my life so far, way worse that being a teenager. Anyone else or is it just me?
 
If you're a student at DePaul and saw me taking pics let me know! I felt so embarrassed with everyone looking at me, so it would be nice to see a familiar face around while shooting an outfit post. This look is super easy to assemble. I'm wearing a printed dress, chambray shirt and a crewneck sweater. Of course I added tights and booties because is winter and it's Chicago after all. I had to layer-up because I wanted to wear a trench coat. I'm so over puffy jackets by now and it's not even February! Oh well…. I still love you Chiberia. Cold and everything. No hard feelings.
 So, tell me; Do you like the pics? I think they're not bad for a first timer with a DSLR. Any tips? It's hard to get a good shot!!!
 
Also guys, make sure to check out my interview with Ismene Cole for her #BeGreat story here. It's very personal and it was super hard to write, but I'm so proud of it and I'd love for you to check it out.
 
Enjoy the rest of your week! Thank you so much for being a part of this experience with me. I promise you, it will only get better!
Spread good vibes around you! ALWAYS!!
 
XO,
 














 
SHOP THE LOOK

The watch is Christian Paul Watches 😉