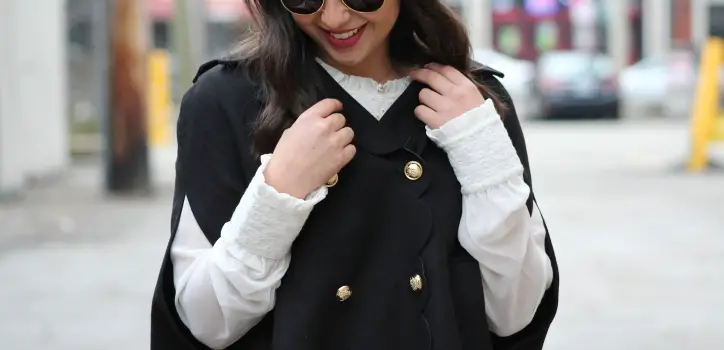 STYLING A BLACK CAPE – PART II
Hello everyone! Happy Humpday!
How's the week going so far for you guys?
Mine, as I mentioned on Monday, is going crazy but good. I just can't wait for the weekend so I can relax a little bit.
For this week I decided to style in two different ways a black cape. On Monday I styled it in a much formal way and today I'm sharing this casual look. This piece is so versatile, seriously you need one in your life because it upgrades any outfit. You can basically throw it over anything!
That's what I did this time. Whenever I don't know what to wear, I usually go for my favorite Citizens of Humanity skinny jeans, a white shirt and black or leopard shoes. That's why I have so many different white shirts hahaha seriously a life saver when you don't have time to chose what you're going to wear. Now, I have a black cape to throw over an outfit like this one and make it less basic. What do guys think?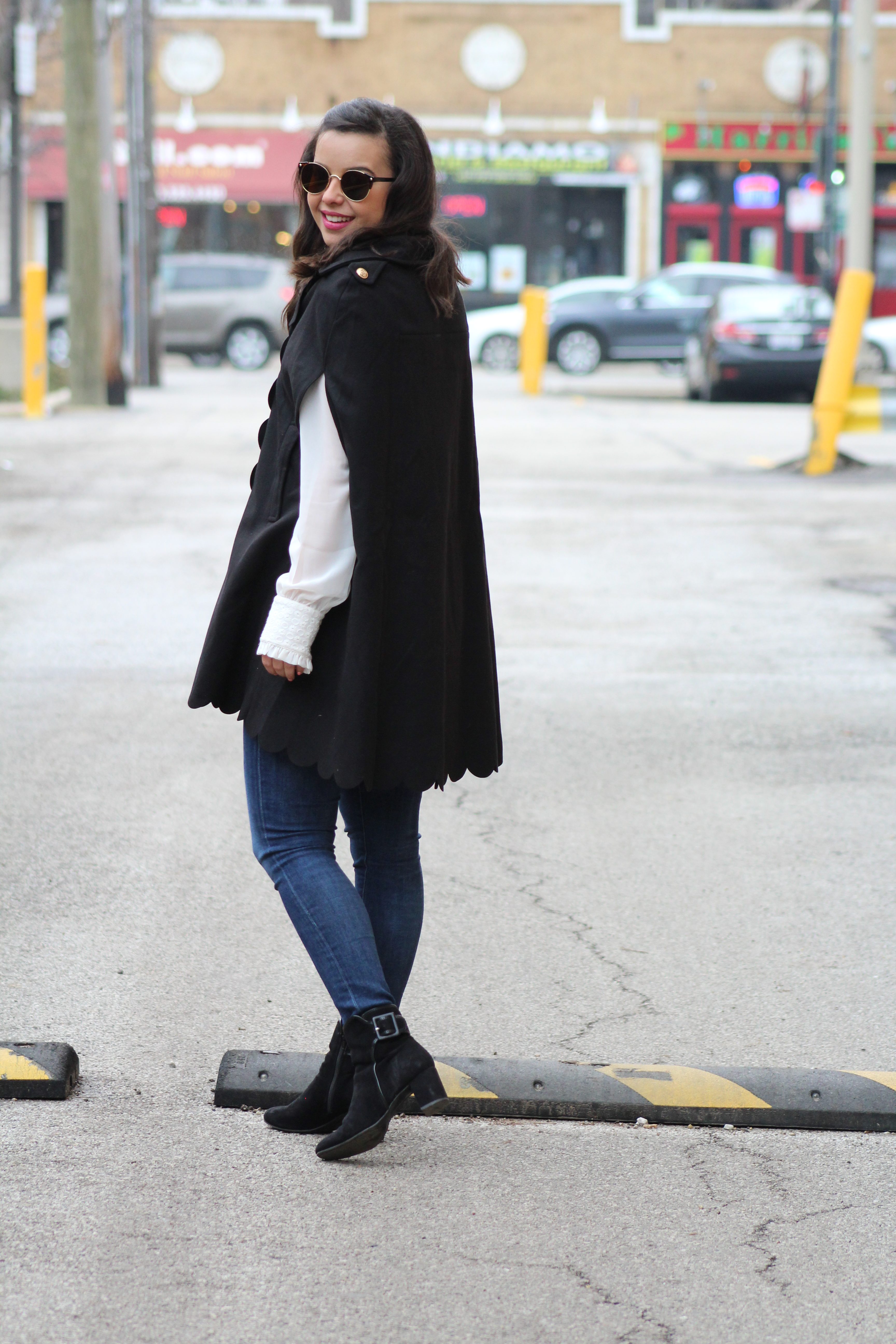 This beautiful scalloped cape is from SheIn and it's only $25! Links to all the pieces at the end of this post! Let me know your thoughts on this look 🙂
Thanks for stopping by my blog. Make sure to come back on Friday to read about a very encouraging post about believing in yourself.
Enjoy the rest of your week,
XO,
 


---
Hola! Feliz Miércoles!
Como va su semana hasta ahora? La mía un poco loca y ajetreada tal como lo mencione el Lunes, pero en general va bien. Solo que ya quiero que sea Sábado para descansar un poco y desestresarme!
Para esta semana, la pieza con la decidi trabajar y crear dos looks distintos es una capa negra. Es primera vez que tengo una y me encanta todo lo que puedo hacer con ella. La puedo usar con muchas cosas que tengo en mi closet! Básicamente la pueden usar con cualquier outfit. Generalmente, cuando no se que ponerme, uno de los looks con que me siento mas comoda es con una camisa blanca (por eso tengo tantas!), mis skinny jeans de Citizens of Humanity y zapatos negros o de algun otro color neutro o estampado, entonces la capa negra me funciono perfecto esta vez, ademas que hace que el look sea menos básico!
Que piensan?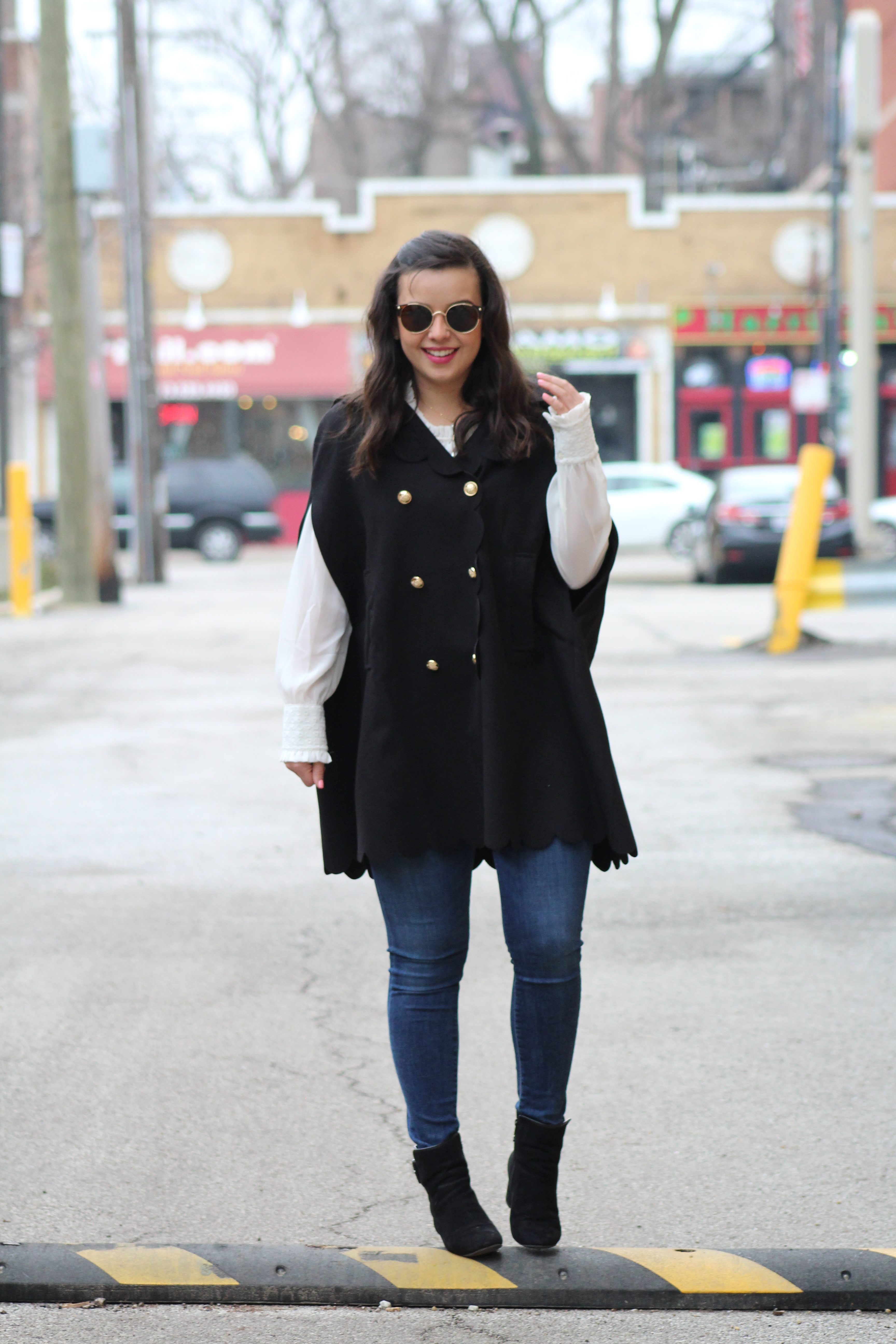 Esta capa negra es diferente a las demás por el detalle que tiene en los bordes y los botones dorados le dan un toque mas como de vestir. Es de SheIn y solo cuesta $25!
Bueno chicos, me despido. Mil gracias por visitar el blog.
No se olviden de volver el Viernes ya que estoy escribiendo un post acerca de creer en ti mismo que les va a encantar y espero que los inspire.
Un abrazo grande!
XO,
 


OUTFIT PHOTOS – STYLING A BLACK CAPE – PART II










SHOP THE LOOK AND SIMILAR PIECES HERE:
Black Cape – SheIn (Only $25!)
Booties – White Mountain Shoes (On sale for $58!)