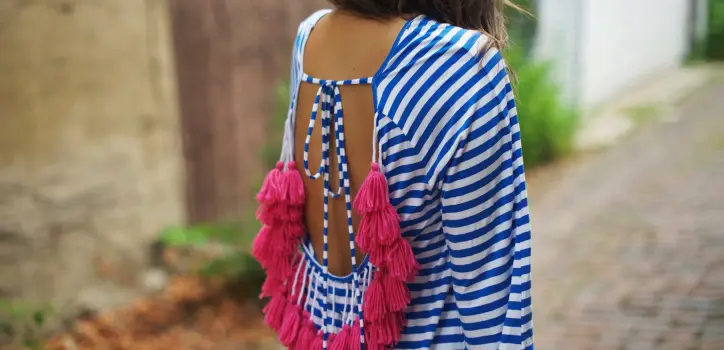 STRIPES AND TASSELS
Hello hello!
Happy Friday guys!
How did your week go? Mine was crazy busy! I'm so excited for the weekend, even though I won't get much time to rest. Still, I'm grateful I have things to do and friends to share my life with. That's something I didn't have when I first moved here, so now I'm beyond grateful that I don't spend my free time sleeping.
I wanted to share this super cute dress/tunic (That's only $24 just FYI) before it starts to cool down again, although I don't why I'm even thinking about this hahaha. I guess it's part of the Chicago mindset. We never stop thinking about Winter lol.
Anyway, It's super cute and flirty and so perfect to enjoy the rest of this beautiful Summer! The tassels in the back make me so happy and I every time I wear this dress I feel like twirling everywhere!
I paired it up with my favorite espadrilles from last Summer and added a bright pink lipstick to match the flirty tassels. What do you think?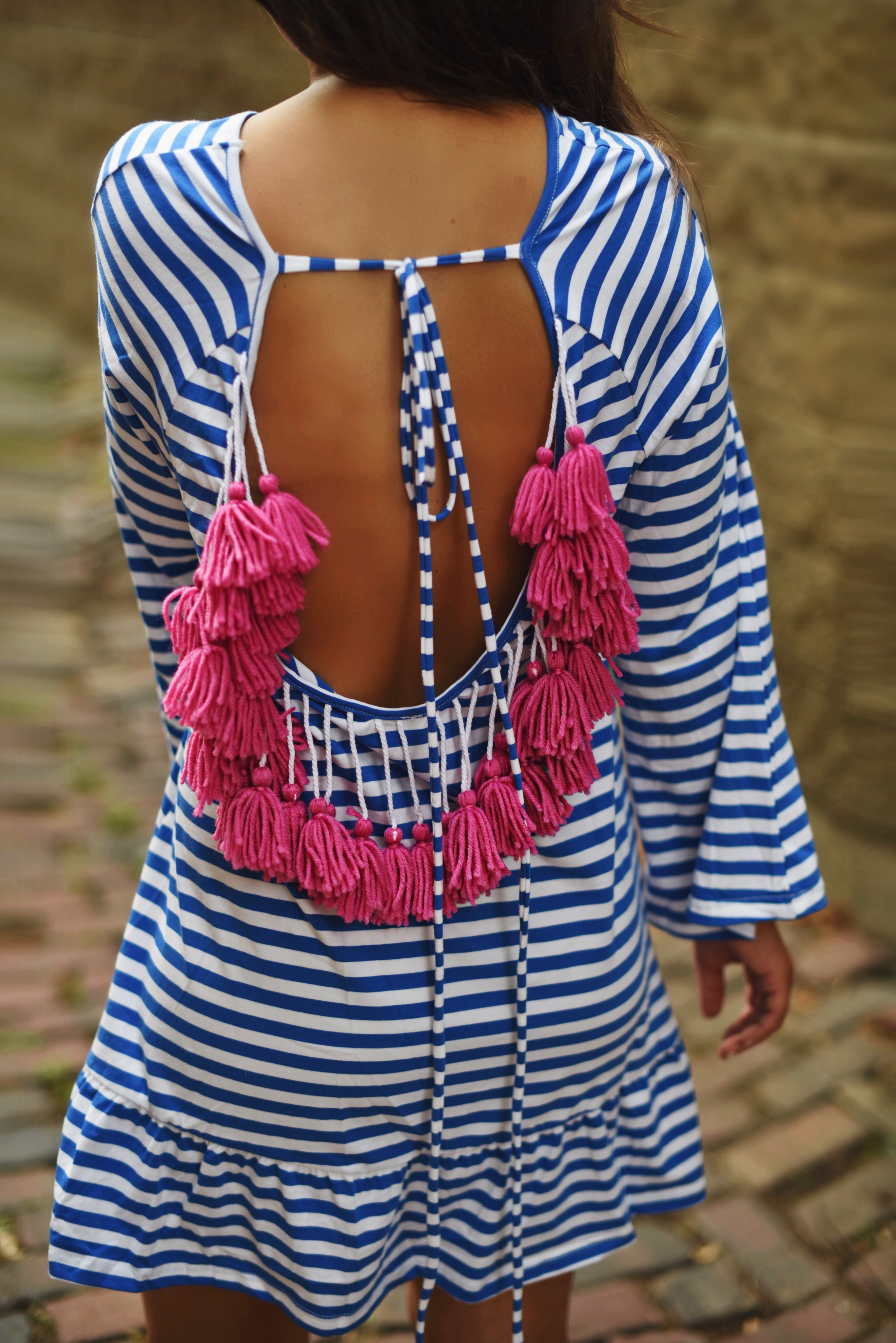 I love it because is such a fun piece!! I can't believe how Ashley made these pictures look so amazing! The day we shot this look, it was 90 degrees with 70% humidity. I think I've never sweated so much in my entire life! Anyway, I'm so glad she took the photos, because I can't think of someone else who could have pulled this off!
Let me know your thoughts!
Have a great Friday and a beautiful weekend!
Don't forget to be grateful.
XO,
 


---
Hola! 🙂
Como están? Feliz Viernes!
Como estuvo su semana?
La mia super full como siempre, pero ya feliz porque es Viernes. Aunque tengo un fin de semana super full y no creo que pueda descansar mucho pero ni modo, hay que vivir y disfrutar! Me siento bendecida por tener amigos increíbles con quienes puedo compartir mi vida y mis alegrías.
Recuerdo que hace un par de anos, mi tiempo libre era solo para dormir y ahora ni recuerdo cuando fue el ultimo día que lo pase acostada sin hacer nada. De seguro que me voy a poner al día con eso en invierno jajajaja.
Quise compartir este vestidito/tunica de Shein, (Que ademas solo cuesta $24) porque es una pieza super divertida y perfecta para verano. Cada vez que me lo pongo me provoca ir bailando y saltando por todos lados. Es una de esas piezas que simplemente te hacen feliz solo con usarla!
Que piensan ustedes?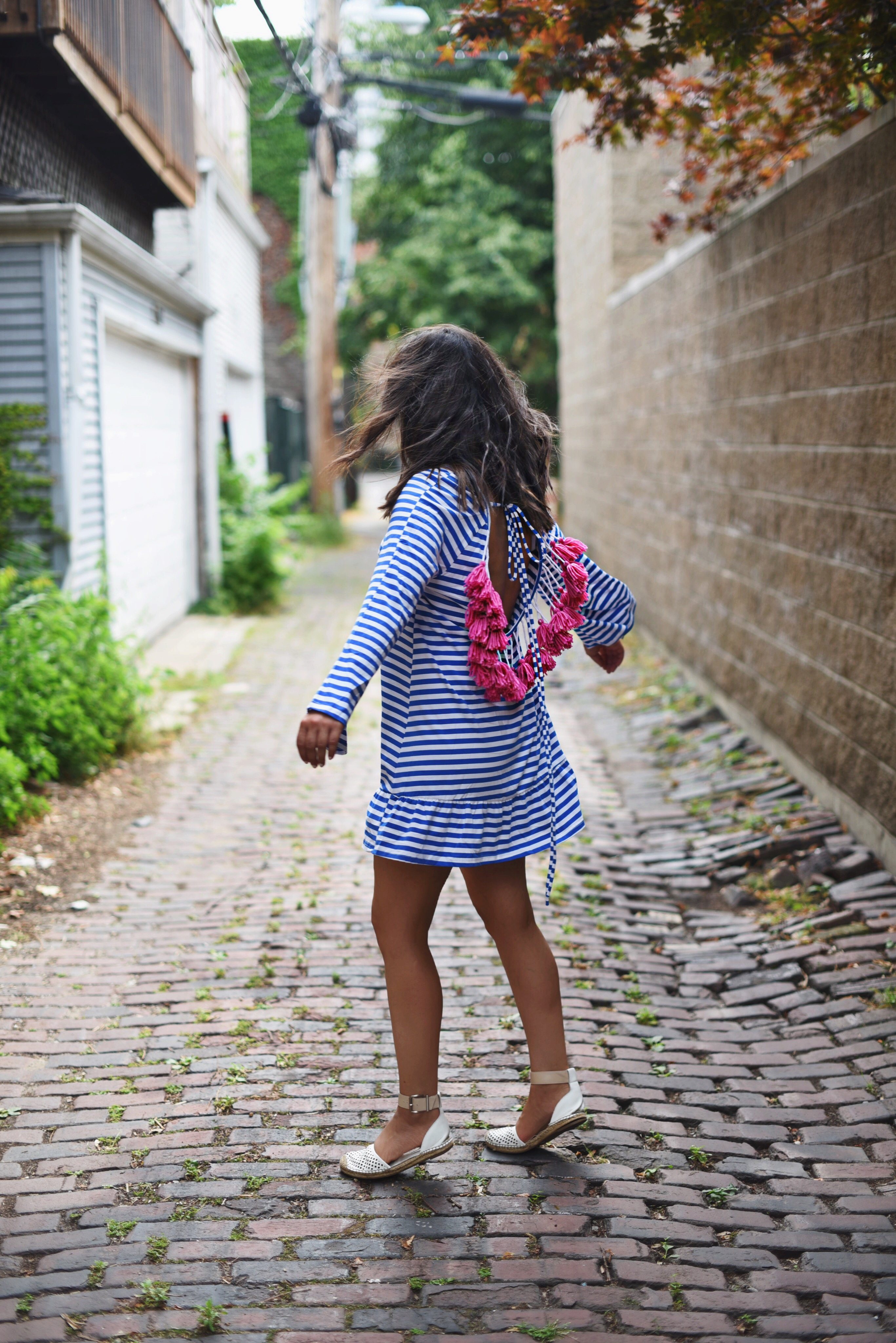 No se como Ashley hizo que estas fotos salieran así! El día que las tomamos hacia 35 grados y 70% de humedad. Jamas había sudado tanto en mi vida!! Eso demuestra lo tremenda fotografa que es! Por eso me encanta tomarme las fotos con ella! Ademas de que es mi amiga y es super divertido trabajar con ella!
Espero que les gusten las fotos y este look de verano!
Un abrazo grande y que tengan un feliz Viernes y feliz fin de semana!
XO,
 


OUTFIT PHOTOS – STRIPES AND TASSELS







Photo credit: The gorgeous and talented Ashley.
SHOP THE LOOK
Link to the dress here.