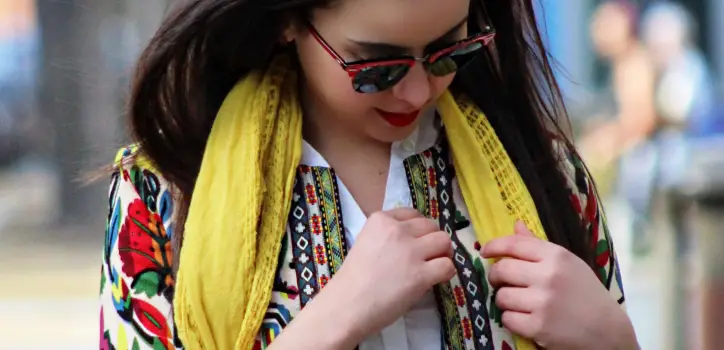 Spring Outfit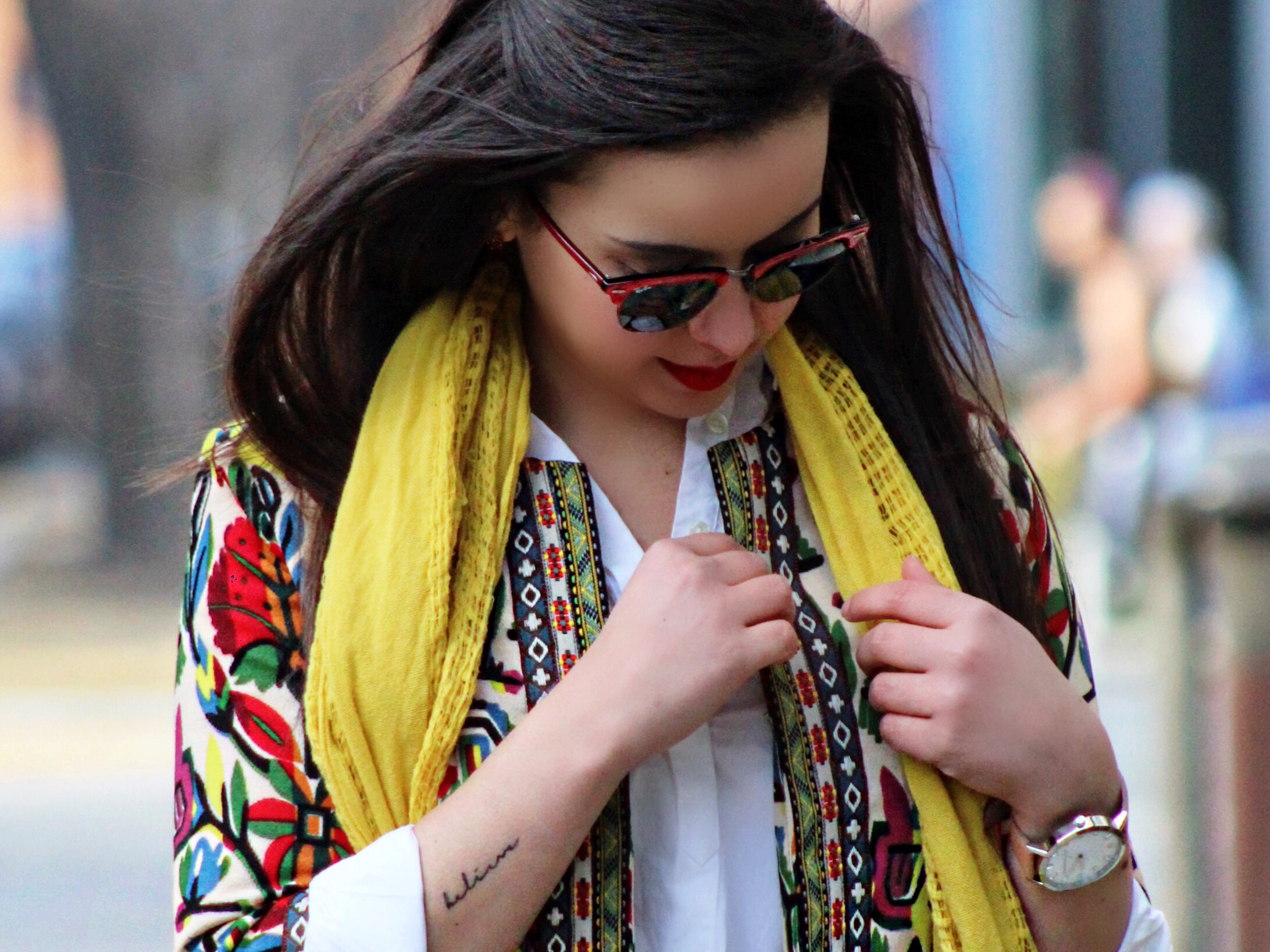 Hello! It's meeeee! Happy Humpday guys 🙂
Hope your week is going good so far and if it's not, try to change your attitude about it ok? Take this post as a sign 😉
 
Cheer up! It's officially Spring and it actually feels -a little- like it here in Chicago. At least it's better than last year.
I did a little something different with this look; I added a VERY colorful jacket, but stayed true to my style and kept it classic with black pants and a white shirt. This is a great spring outfit and it works as an office look too . I think it's such a fun jacket and I'm planing on wearing it a lot this summer.
 
It's usually good to step out of your comfort zone from time to time. Even if it is with clothing. Somehow every time I wear this jacket I feel happy and cheerful and it gets people's attention, so it's always a good conversation starter. Although for me, that's actually a good reason to stop wearing it hahaha. I'm weird guys and socially awkward. Whatever.
Before I forget, check out this TED Talk by Tim Harford called "How frustration can make us more creative"
My favorite quote from this talk:
"Sometimes our instincts are wrong. We need to gain a bit more appreciation for the unexpected advantages to cope with a little mess"
And as I promised last week, here are more 'Ways of Style' a printed jacket, and other times I've worn these pieces for the blog:
 
Ways of Style: Colorful Printed Jacket
This one is tricky, because it depends on the print. But in general I recommend to keep the printed piece as the focal point. Combine it with neutrals and you'll be fine. Another option is to pair it with neutral stripes. I think this one would look good with a black & white dress or just with a B&W top, heels and skinny jeans.
Other times I've worn these pieces:
Printed Jacket: None, because it's new. But, I'll be wearing this one over the next couple of seasons. I bought it on Dress Link. It was like 11 bucks guys. They take forever to arrive, but if you don't need the items right away, it's worth the wait. Link to the jacket here. 
Black Pants: I love them because they fit no matter what! Every girl needs a pair of loyal pants 😉 Also worn here.
White Shirt: Can't believe this is the first post I'm styling a white shirt, since I have like 10 and wear at least 3 of them every week!! Already loving this new section of the blog because it makes me realize what pieces I wear a lot and haven't styled at all in here.
Beige Suede Pumps: Also seen here. Thinking of getting my first pair of Louboutins soon! Should I get them in nude or black? Such a hard choice! Especially with you can barely afford one pair lol. Check all my faves here.
Random thought: I usually sleep like 5 hours/night but last night I slept 7! Yes, SEVEN! Feel like I can conquer the world today!
Well heading out because I'm going to an awesome brunch today! Stay tuned on Instagram and now on Snapchat! Yes, I finally started using Snapchat! Go find me: Ways of Style.
 
Enjoy the rest of your week and spread kindness & good vibes all around you!
Yesterday was World Water Day and I'm working with "The Adventure Project" to spread the voice around. Visit this page for more info. Let's try to make the world a much better place. There's so many people who doesn't have basic things that we all take for granted, like water for example. Visit their site for more info on how to contribute. Thanks is advance! 🙂
Thank you so much for stopping by 🙂
XO,
 













SHOP THE LOOK AND SIMILAR PIECES HERE: