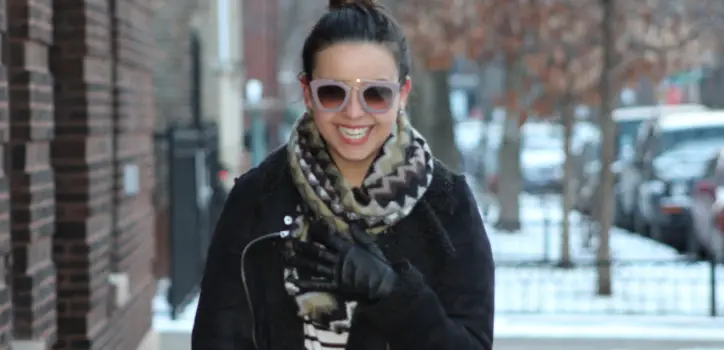 Skirts and Tights
Helloooo!
Happy Humpday!
 
If you've been following along for a while perhaps you've noticed my love (or obsession) for skirts and tights this winter. Even though I do love this combo for various reasons (not having to shave being one of them!), I must confess that I've been dressing like this all the time because none of my pants fit! I moved to Chicago from Venezuela almost two years ago now (WOW time flies!) and I've gained 20-ish pounds ever since.
 
I guess I could say I've been living 'the good life', although is not entirely true. I've had a lot going on the past year and food was simply an escape from everything. Hey, I could have been doing things way worse than eating right? 😉
 
Last week I started to eat healthier and it's been going pretty good so far, so I hope to be posting outfits that include pants really soon LOL. Anyway, I totally recommend doing the skirt-and-tights combo if for some reason your body fat percentage increases during winter, for strategic reasons like staying warm of course hahaha. My advice is to get creative with the things you already have in your closet. Do not go and buy bigger clothes. If you want to wait until your pants rip off while at work like I did, that's fine. But really, if you don't feel comfortable with the way you look, just take some time to analyze your eating habits before making any clothes-related decisions.
Start treating your body right. Eat healthy and work out…. And wear tights and elastic-waist skirts while on it! 😉 I added a striped sweater and a zig zag striped scarf to add a little something different. Never be afraid of print mixing!
 
With 20 extra pounds or not, I decided to post these pics to show you that you can still look good without pants! Any thoughts? 😉
 
Enjoy the rest of your week guys!
Thank you so much for stopping by.
XO,
 









SHOP THE LOOK
 
Sunnies are from SHOPDITTO. Use my code WAYSOFSTYLE and get your first month of unlimited designer sunglasses for FREE!