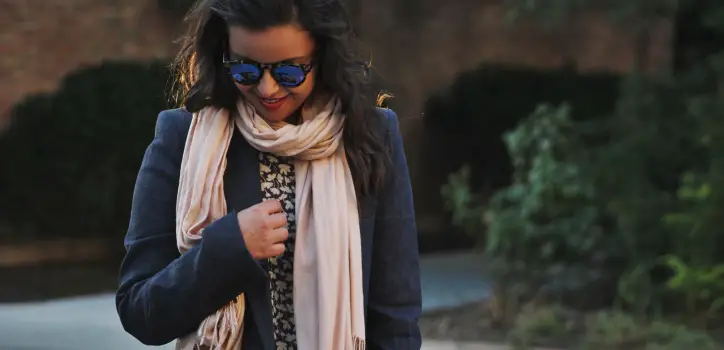 MY THOUGHTS ON SECOND HAND CLOTHING
Hello guys!
Happy Monday! How was your weekend?
Mine was busy as usual. I feel like I'm starting to look a little desperate because Summer is coming to an end, so I try to be out there as much as I can. Weather here in Chicago is still nice, so I'm soaking it all in before the temps start to cool down, because when that happens, it's done! No more nice weather until next year!
Anyway, just bare with me with this all weather situation hahaha I'm still not used to it. A good and a bad thing though, is that you get to change your closet with every season. I love layers and can't wait to start wearing my scarves, turtlenecks and big chunky sweaters. On the other hand, you spend a lot of money on clothing every year and this can hurt your budget… A LOT! That's when second hand clothing comes in!
I remember almost two years ago doing a market research for a business plan, I ran into ThredUp.  I have to admit that when I was first introduced to this whole second-hand clothing thing I had my doubts, but after looking at their website, there were so many items I wanted for myself. I remember spending $100 and receiving over 10 pieces of clothing. All of them were sweaters (It was my first winter in Chicago) and I couldn't believe the quality of every single item. I knew I was hooked.
So guess what? Winter is coming again so I had to stock up with a few go-to timeless pieces I needed for this new season. This time I got a beautiful French Connection Skirt, a Dark Denim J. Crew Blazer and a pair of Tahari Flats (See below).



You can see why I like second hand clothing, especially from ThredUp. They triple check the items they received and they're very very honest with the condition of each piece. If you haven't checked them out, I think it's worth the try. Check out their website and use promo code "WAYS40" to get 40% OFF your first order!
Happy shopping guys!
Thank you so much for stopping by and have a great week ahead!
XO,
 


---
Hola!
Feliz Lunes! Como están? Que tal estuvo su fin de semana?
El mio una locura como siempre. Creo que ya empiezo a verme un poco desesperada porque se va a acabar el verano jajaja entonces me la paso en la calle! Creo que solo puedes entender la desesperación de salir cuando vives en una ciudad de 4 estaciones, especialmente cuando tienes que pasar por inviernos como los de Chicago. Se que he estado hablando mucho del clima últimamente, pero es que de verdad pega! Aun no me acostumbro.
Una de las cosas que que me fueron super útiles y me ayudo a ahorrarme bastante dinero durante los cambios de estación, fue ThredUp. Es un lugar donde puedes vender la ropa que ya no usas y ademas puedes comprar ropa a precios super bajos! Animate a revisarla! Tienen miles de items y cosas de marca super lindas que están en muy buen estado. Eso es lo que me gusta de esta tienda, que revisan cada pieza 3 veces y son muy honestos con respecto al estado de cada pieza que tienen en su website. Ademas que si usas el código 'WAYS40' tienes 40% de descuento en tu primera compra.
Yo la use por primera vez hace dos anos cuando la descubrí, gracias a un plan de negocios que estaba haciendo para una tienda similar y aunque al principio no estaba muy convencida, ya que el concepto era muy nuevo para mi, igualmente decidí probar a ver que tal. Compre mas de 10 piezas y no gaste ni $100 y todas las piezas eran sweaters que aun tengo en mi closet!
Ahorita que ya viene el invierno de nuevo, compre estas tres piezas: Un blazer de J. Crew, una falda de French Connection y unos flats Tahari:



Ya pueden ver porque me gusta tanto esta tienda! No dejen de visitarla, les prometo que no se van a arrepentir! Recuerden que pueden usar el código 'WAYS40' para un 40% de descuento!!
Bueno, mil gracias por visitar el blog y que tengan una super semana!
Un abrazo
XO,
 


OUTFIT PHOTOS – MY THOUGHTS ON SECOND HAND CLOTHING










*Special thanks to ThredUp for sponsoring this post. Opinions and experience with the brand are as usual, my very own.