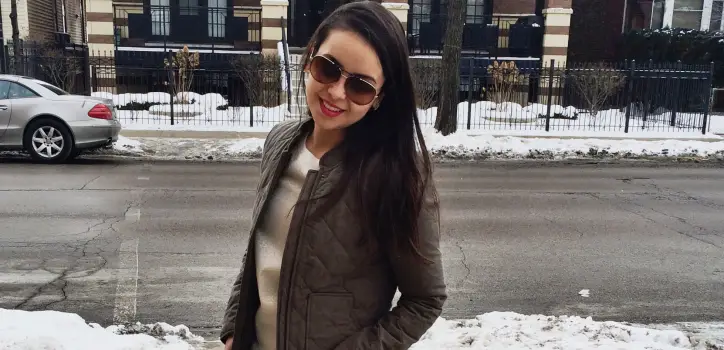 Go-To Outfit
This is definitely one of my favorite casuals GO-TO outfits, at least for this season. I am the most hesitant person when deciding what to wear, really it can take hours! My hubby doesn't exactly enjoy this, so for my marriage's sake LOL I pick up my clothes the night before. However, sometimes this is not possible, so I have GO-TO outfits, like this one.
Back in Venezuela, this was a piece of cake! Always same weather, temperature etc. so I had the typical "Dress that always fits", "Navy-Brown Combo", "Printed Pants + Contrast Color" and of course the classic "Jean + White Shirt". Here, on the other hand, is not that simple. Since Chicago has a four-season weather and it is quite possible to experience all four seasons in one day, a girl needs to be more creative. Now I decide my outfits based on destination, season, walking distance, activity, type of transportation and most important: no-roof exposure aka time spent outside four walls. Pretty simple right?
I'm pretty basic with my clothes. I have tons of neutrals that I like to combine with different accessories, but since I decided to start a fashion blog, I'm trying to be more creative, not that much with colors but with textures and prints. Of course, always maintaining my unique style. I'm always ME no matter what. Today I combined military green, with a beige and gold sweater, ripped boyfriend jeans and my absolute favorite shoes right now.
This outfit works good for me because if I'm going out I'll just add heels or booties and change my makeup. But the main reason this outfit is so perfect is because I'm comfortable with it and I feel beautiful because of that. That's my favorite kind of style, the one that comes from within when you are having one of those "I woke up like this" days.
As I mention in my About Page, style is a combination of many things, a fusion of all the things that makes you, well… YOU, and since I'm a female I know there are many different "YOU" and that, just like Chicago's weather can change many times in one day (sorry partners!). So try to be consistent, but evolving with your style, be true to yourself. ALWAYS.
I know you might be thinking your style has changed a lot over time, but I don't think that's the case. I believe that once you found your true self and who you ought to be, your style remains the same. It just progresses over time.
Remember to smile! Have a great day and thank you so much for reading.
XO,





---
Get this look for $118+ on Lookastic: Dark Brown Sunglasses, Olive Quilted Bomber Jacket, Blue Ripped Boyfriend Jeans, Beige Crew-neck Sweater, and Grey Snake Leather Low Top Sneakers