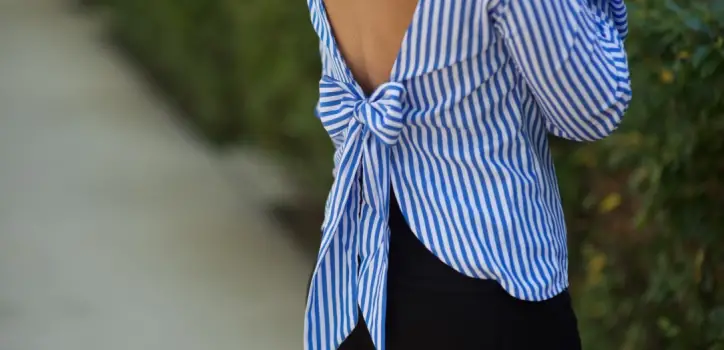 FROM THE OFFICE TO HAPPY HOUR
Hello hello!
Happy Monday everyone!
How was your weekend? I can't believe mine was super low key and I can't believe how much I enjoyed the fact that it was. I think I'm mentally preparing for a new season and accepting the fact that long warm nights will be over soon, and I'm OK with that. I could use some sleep and a nice detox.
I wanted to share this top I got from SheIn (It's only $14!) with you because it's such a fun piece (Also take a look at this fun dress from them too!). It's the perfect example of a piece you can wear from the office straight to happy hour! You can wear it with a black blazer during the day and take it off for after office drinks (By take off I mean the blazer, not the top. Although is entirely up to you ;)). I paired it up with black skinny jeans, jeweled heels and added a choker, because well, everything looks better with a choker if you ask me.
What do you think?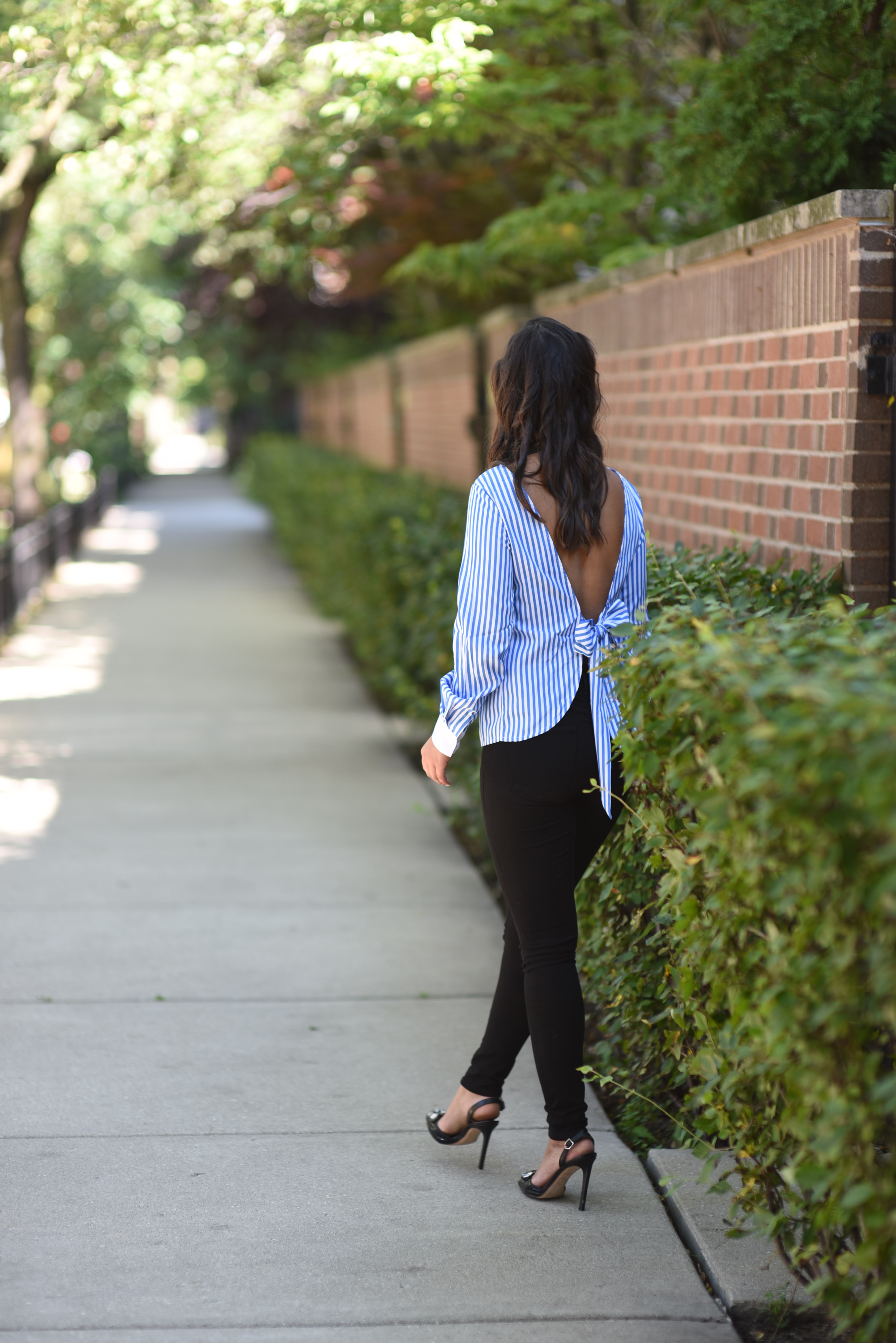 Also, just for you know SheIn as the following deals going on right now:
Most Popular items available for Pre-order and 50% OFF! Link here.
Exclusive pieces from SheIn. Link here.
80% OFF styles. Link here.
Just take a look at it. I'm sure you've seen a lot of their designs all over Pinterest & Instagram 😉
Something random:
I read this the other day and I though it was so beautiful that I wanted to share it with you. Here it goes:
"Love is large and incredibly patient. Love is gentle and consistently kind to all. Love is made manifest through patience and kindness. When you sink into this sort of love it goes beyond smiling at the person behind the counter at your local grocery store (kindness) and waiting for your partner to get ready so you can go out (patience). Oh patience.

It's not waiting with a smile on your face or choosing not to be angry at the person in front of you who is taking forever with their order. There's a sense of endurance to it, personal responsibility; the refusal to rush and skim and ignore details and lives. Patience listens more than demands. It insists that there is more going on around us than the headlines tell us. It begs us to dig, to wait, to seek and keep on seeking. And in its true form, patience is something that we need for ourselves more than for others.

Why do we get frustrated when someone runs late, or doesn't believe our truth, or can't see the world the way we do? Unmet expectations. Be patient with yourself. Grace. Breathe.

Rather than demand others think and believe and live and value the same way and things you do, listen to them. Look at them. Believe them. Journey with them.

Is it world repair you seek? Justice? Mercy? Cultural and political change? My dear friend, it will only come with kind, patient endurance. Be willing to do the work. That sort of change cannot and should not be rushed. It can only be lived into day by day.

Kindness. There's being kind to your kid's school teacher, or the person waiting at the same bus stop as you. and it's great. But then there's a subversive kindness that forgives and helps and costs. It sees through angry outbursts and emotional manipulations. It confronts with generosity and sensitivity. It sits with ambiguity and mess. It notices motivation and intention. It doesn't need clean houses and hairs in place. It disarms, embraces and transforms more than shouting and finger pointing ever could."
I know it's long, but to me it was worth the read and I hope it did to you what it did in me.
Have a blessed week ahead!
Thank you so so much for stopping by.
XO,
 


---
Hola a todos!
Que tal estuvo su fin de semana?
El mio estuvo super super tranquilo, primera vez desde que empezó el verano creo yo! Lo que me sorprende es que de hecho lo disfrute muchísimo. Ya creo que estoy mentalmente preparada para el cambio de estación y estoy empezando a aceptar que esas noches largas y calientes ya se terminaron. Y no me molesta para nada! Creo que necesito como un detox y dormir jajajaja.
Queria compartir con ustedes este top de SheIn (Este website me encanta! Miren este otro vestido que es de alli tambien!). Creo que es una camisa super seria para la oficina si la usas con un blazer negro, y es perfecta si sales despues del trabajo a tomarte unos tragos o algo porque la espalda es hermosa y sutilmente sexy. La combine con unos skinny jeans negros, tacones altos y un choker. Que les parece?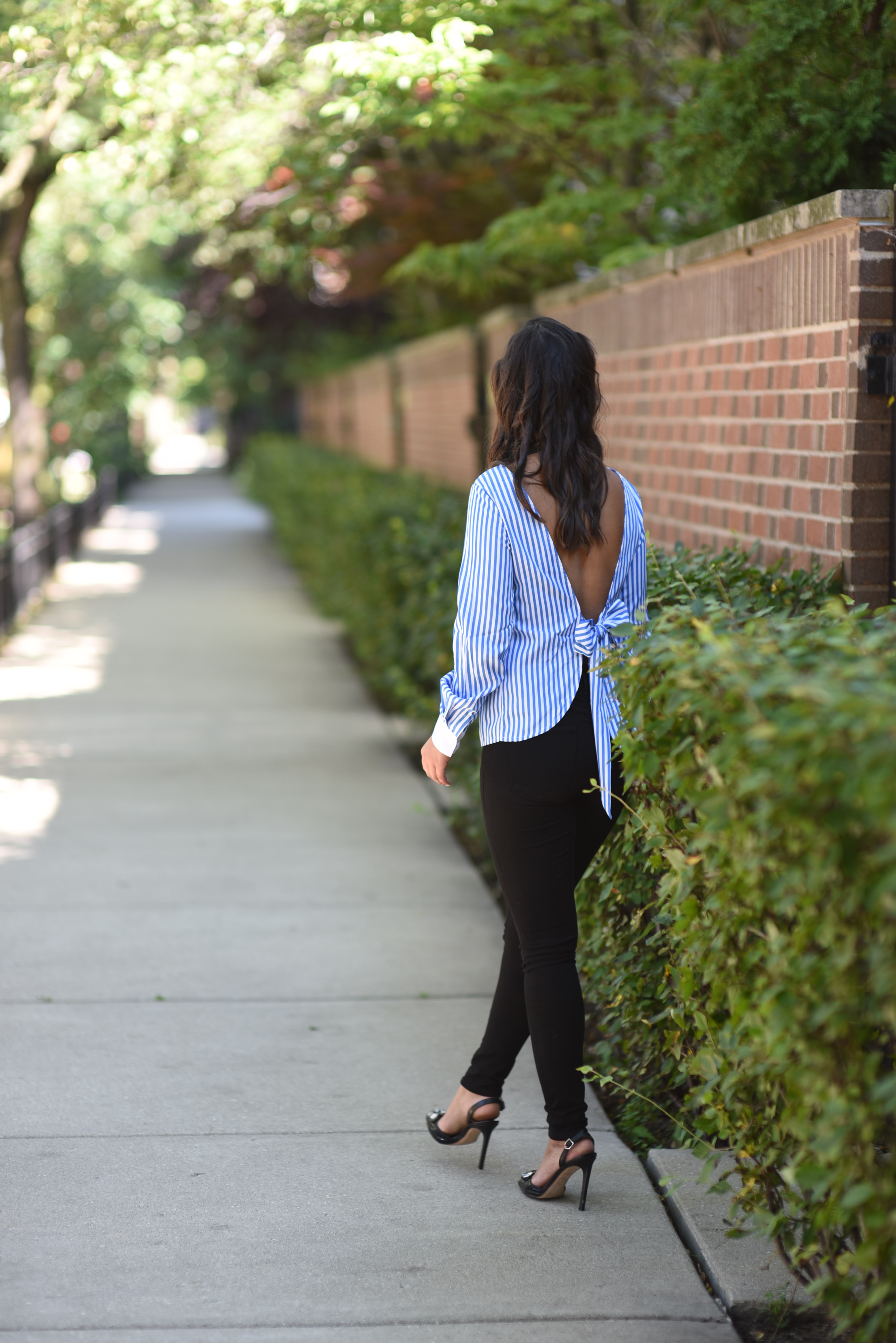 SheIn tiene varios deals ahorita que vale la pena revisar. Estoy segura que habrán visto muchas de estas piezas en Instagram y en Pinterest porque de verdad que es bien barato y tiene cosas bellas! Esto es lo que tienen ahorita que creo que vale la pena:
Items mas populares 50% OFF! Link here.
Piezas exclusivas de SheIn. Link here.
Items a 80% OFF. Link here.
Espero que les guste! Déjenme saber en los comments!
Aqui les va a algo que espero que les sirva de motivación un Lunes como hoy. Lo lei en Instagram en ingles, pero aquí se los traduzco en Español. Espero que los ayude tanto como me ayudo a mi. Aquí les va:
"El amor es grande e increiblemente paciente. El amor es sutil y consistentemente amable con todo el mundo. El amor se manifiesta a traves de la paciencia y la amabilidad. Cuando te hundes en un amor de este tipo, va mas alla de sonreirle a la persona que te atiende en el super mercado (amabilidad) y sin duda va mas alla de esperar felizmente que tu pareja este lista cuando van a salir a cenar (paciencia). Oh paciencia!

Paciencia no es solo esperar con una sonrisa o escoger no amargarte con la persona que esta en frente de ti que esta tardando mil horas en ordenar algo. Hay un sentido de resistencia, de responsabilidad que viene con ella. La paciencia escucha mas de lo que exige. Insiste que hay mas cosas pasando a nuestro alrededor de lo que puede decirnos un periódico o un canal de noticias. Nos ruega que indaguemos, que busquemos y sigamos buscando. Y en su verdadera forma, la paciencia es algo que necesitamos desarrollar mas por nosotros mismos que por los demás.

Porque nos frustramos cuando alguien llega tarde, o no cree nuestra verdad, o no puede ver el mundo de la manera en que nosotros lo vemos? Simplemente porque tenemos expectativas que no se han cumplido. Se paciente contigo mismo. Ten gracia contigo mismo. Respira. En vez de exigirle a los demás que piensen y crean y vivan y valoren las mismas cosas que tu, escuchalos. Míralos. Cree en ellos. Vive su vida al lado de ellos (empatía).

Es reparar el mundo lo que buscas? Justicia? Piedad? Cambios culturales y politicos? Mis queridos amigos,esto solo se logra con amabilidad, con un tipo de paciencia que es resistente ante cualquier cosa. Pero tienes que estar dispuesto a hacer el trabajo. Ese tipo de cambio no se puede ni debe apresurarse. Solo se puede vivir un día a la vez.

Amabilidad. Esta el tipo de paciencia que consiste en solo ser amable con el maestro de tu hijo o con la persona que esta esperando el autobús a tu lado. Pero también esta un tipo de amabilidad que es subversiva, que perdona y olvida, que ayuda y que cuesta. Ve mas allá de ataques de ira y manipulaciones. Confronta con generosidad y sensibilidad, se pone en los zapatos de la otra persona y vive y siente igual que ella. Es capaz de sentarse con una situación ambigua y totalmente desastrosa. Diferencia entre motivación e intención. No necesita que seas perfecto y que tengas una casa impecable, ni necesita que estés siempre bien arreglado (a), porque es este tipo de amabilidad, la que desarma, transforma y acepta mucho mas de lo que señalar a otros jamas podra hacerlo."
Se que es un poco largo, pero me pareció que valía la pena compartirlo!
Espero que les guste! Un abrazo grande y mil gracias por visitar mi blog!
Feliz semana 🙂
XO,
 


OUTFIT PHOTOS – FROM THE OFFICE TO HAPPY HOUR
All photos taken by my babe Ashley (Aka @mushroomstew/Sedbona)










SHOP THE LOOK HERE
Top: From SheIn. It's only $14!! Get it here. Rest of the items, linked below 😉