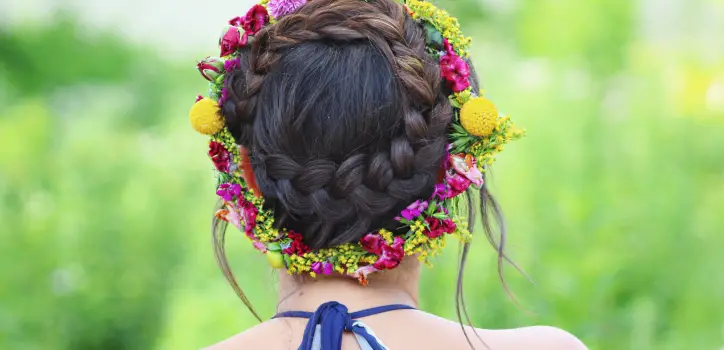 FLOWERS FOR DREAMS
Hi guys! Happy Monday!
So excited to start celebrating my birthday week! It started yesterday with a Coldplay concert that was INCREDIBLE!! Completely recommend to see this band LIVE! You will not regret it!
Also, very excited because my birthday is on Wednesday and I will continue to celebrate this weekend at Lolla! I was hesitant about going because is not really my thing, but whatever, I had the tickets and if is not this year, when? Who knows where I'll be next year so I wanted to live in the present and step out of my comfort zone and do something different for a change. I did say this was going to be the best Summer yet, so Lolla seems to fit perfectly with my plans.
And what a better way to style your hair for Lolla than with a crown from Flowers for Dreams? I mean, can I just wear this to work every day? Felt like a princess while wearing this beautiful arrangement!
Have your heard of them? It blows my mind to learn of all the amazing businesses that are making an impact in this world. What started as a Summer project, ended up becoming a profitable business that now helps local charities with every bouquet they sell. All of their flowers are organic, prices are very reasonable ($35 for a bouquet) and on top of that they have FREE delivery! To read their entire story, just visit this link.
If you'd like to learn how to make these beautiful flower crowns, Flowers for Dreams is having a workshop this weekend! If you're in the Chicago area make sure to check it out. You can purchase your tickets by visiting this link. The classes will be held Thursday through Sunday and they'll provide all materials and flowers for the crowns along with drinks, food, music, and a cute giveaway for just $75.
Ok, so for this look I wanted to focus on the crown and the braid so I chose a simple striped dress with a sexy back and my favorite navy espadrilles. What do you guys think?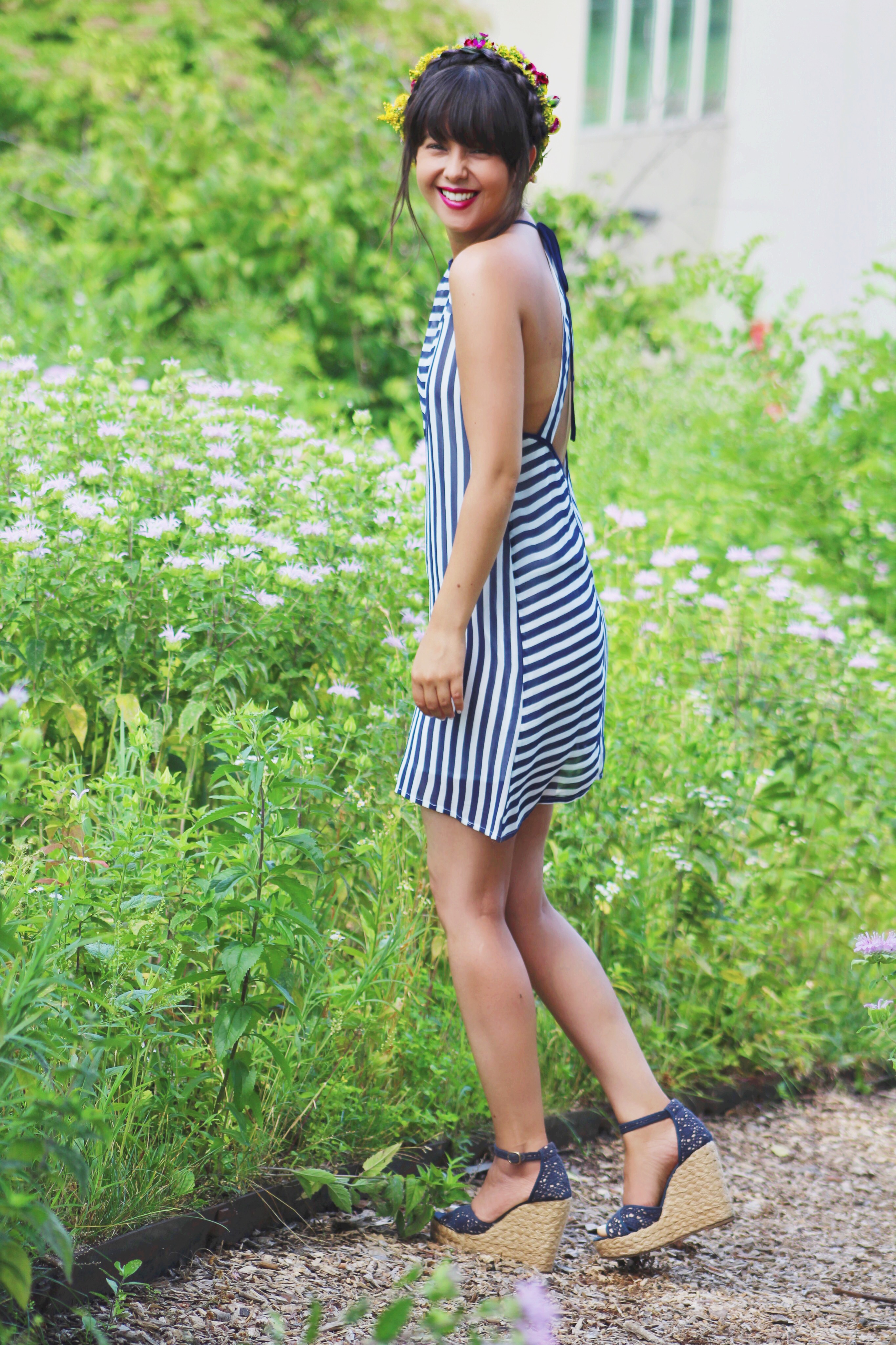 I had so much fun shooting this and loved the final results! We took the photos in front of the Nature Museum and I felt a little like a free-spirited girl next to all these flowers! This might be one of my favorite looks so far!
Hope you guys like it too 🙂
Thanks for stopping by and have a blessed week ahead!
Remember to visit the blog on Wednesday to check out my birthday post!! I'm turning 29! YAY!
XO,
 


*Special thanks to Flowers for Dreams for sending out this beautiful flower crown and to Leslie from Epoch Chicago for braiding my hair to perfection!
---
Hola! Feliz Lunes!
Como están?
Yo emocionadisima de empezar a celebrar la semana de mi cumpleaños! De hecho empece ayer con un concierto de Coldplay que fue lo máximo!! Les recomiendo 100% ver a este grupo en vivo! Vale demasiado la pena, de verdad que estuvo ESPECTACULAR!
Otra cosa por la que estoy emocionada: el Miércoles es mi cumple! Cumplo 29! Mi ultimo ano en la década de los 20 que tal? Y por eso voy a continuar celebrando este fin en Lollapalooza! No es mi tipo de actividad, pero definitivamente si es una experiencia que quería vivir. Dude mucho en si ir o no, pero ya tenia el ticket y bueno… Voy a ir y vivir mi experiencia porque quien sabe donde voy a estar el proximo ano.. Así que estén pendientes en IG y Snapchat que voy a estar publicando bastante acerca de esa aventurita ;).
Y que mejor manera de completar los outfits de Lolla que con una corona de flores? Me encanta el estilo que la gente suele usar en estos festivales porque son looks bien relajados, boho, hippie, como los quieras llamar! Ya saque los outfits para los 4 días de Lolla y ya quiero que llegue el Jueves para empezar a mostrárselos. Esta empresa Flowers for Dreams tiene un modelo de negocios bellísimo y super inspirador. Lo que empezó como un proyecto en la universidad se convirtió en un negocio que con cada venta ayuda a fundaciones y empresas sin fines de lucro locales. Cada vez me sorprende mas la cantidad de empresas que se están dedicando a poner su granito de arena para hacer de este un mundo mejor y yo no me cansare de apoyarlas!!
Si quieres saber mas de su historia, puedes visitar este link.  Y si ademas quieres aprender como hacer esta belleza, esta semana van a tener un taller donde puedes aprender. Así que es tu día de suerte. Para comprar los tickets directamente en su website visitando este link.
Ok, ahora el look. Quise enfocarme mas que todo en la corona de flores y la trenza entonces escogí un vestido super simple con una espalda sexy y lo combine con mis espadrilles azules que las he usado casi que todo el verano! Cuéntenme que les parece?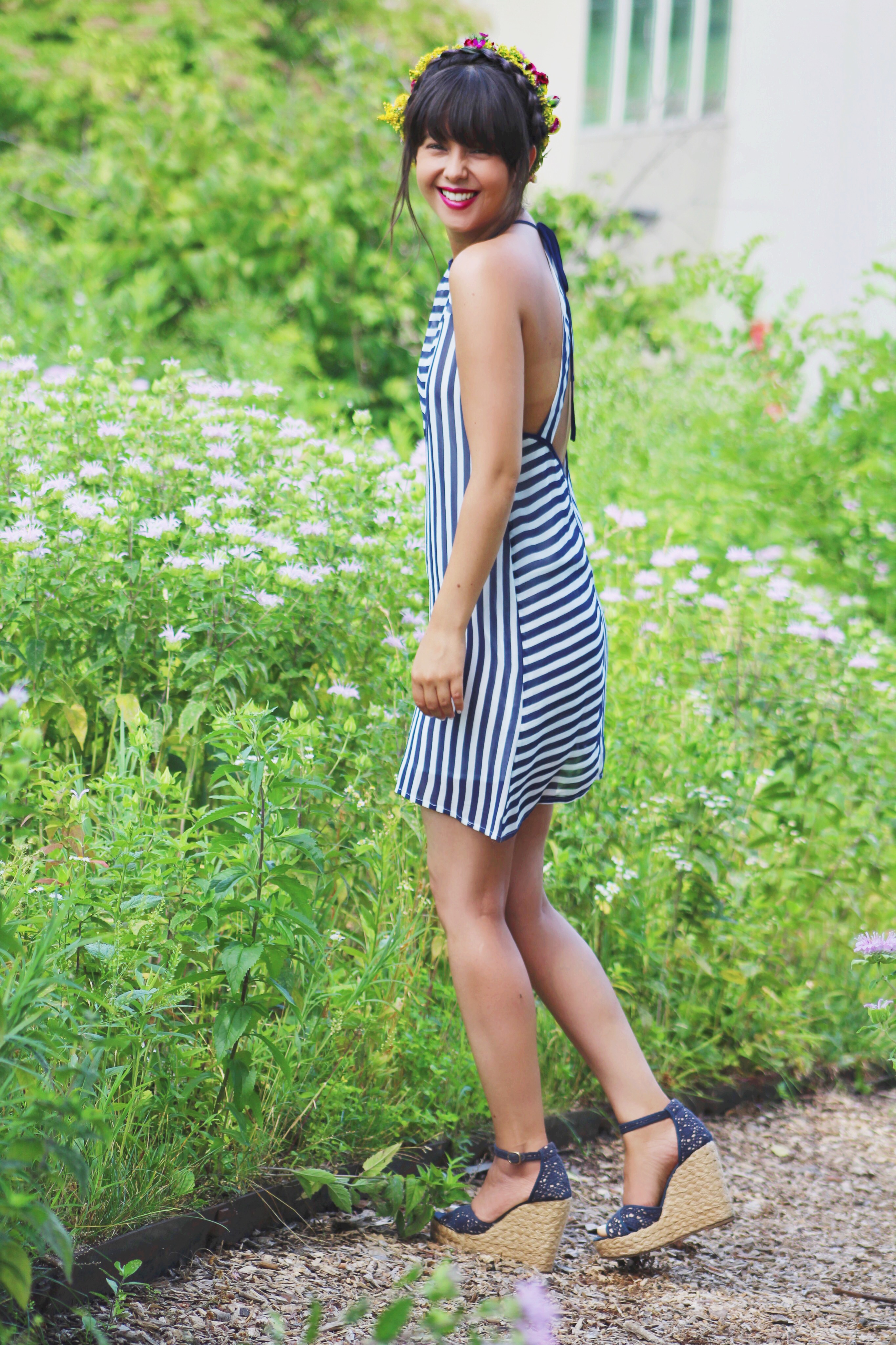 Me diverti demasiado tomando estas fotos y me senti así como flotando entre tantas maticas por todos lados. Cuando vi las fotos me encantaron inmediatamente y fue super difícil escoger las mejores, pero estas fueron las que mas me gustaron. Me encanta como se ve todo verdecito en el fondo 🙂
Bueno chicos, no se olviden de visitar el blog el Miercoles para leer el post de mi cumpleanos! No puedo creer que voy a cumplir 29!
Gracias por visitar el blog!
Un abrazo GRANDE!
XO,
 


*Mil gracias a Flowers for Dreams por enviarme esta corona de flores tan espectacular y a Leslie de Epoch Chicago por hacerme esta trenza que quedo perfecta con la corona.
OUTFIT PHOTOS – FLOWERS FOR DREAMS












SHOP THE LOOK & SIMILAR PIECES HERE