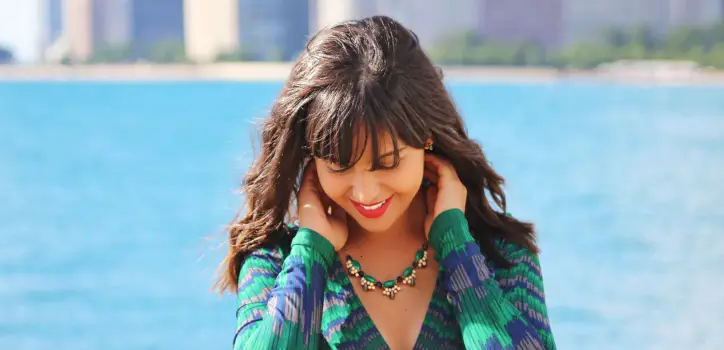 ALL DOLLED UP WITH PAISLEY AND SPARROW
Hi guys! Happy Humpday!
How was your weekend? How's your week going so far?
Mine was crazy! Did all four days of Lollapalooza and I still can't even walk like a normal person. And yes, I'm aware that's already Wednesday! I guess this is what it feels to be 29 hahaha but it was amazing and worth it and I couldn't think of a better way to continue my birthday celebration! Can't wait for next year!
Did you guys check out my birthday post? I know you'll love it!
For today's look I decided to dress up a little bit with one of my favorite kind of dresses; the wrap dress. You definitely need one of these in your closet, I have a few because I think they work out perfectly with every occasion and there are so many ways you can style them. Also, it goes perfectly with my new Paisley and Sparrow necklace. I think is such a beautiful piece and the story of how it was made is even more amazing.
Paisley and Sparrow is such a great company. Jen – it's founder – is a great woman who has a clear vision; to make a difference in someone's life with every product they sell. You can be confident that with any purchase you make, you'll be a part of a positive change in someone's life. From women who are widows and HIV positive or victims of human trafficking, the organizations Paisley and Sparrow works with, help women in need and with limited resources in developing countries as well as in the US.
To check out their entire story please visit this link.
What do you guys think? Isn't this necklace beautiful? Such a cute and elegant statement piece that goes well with anything!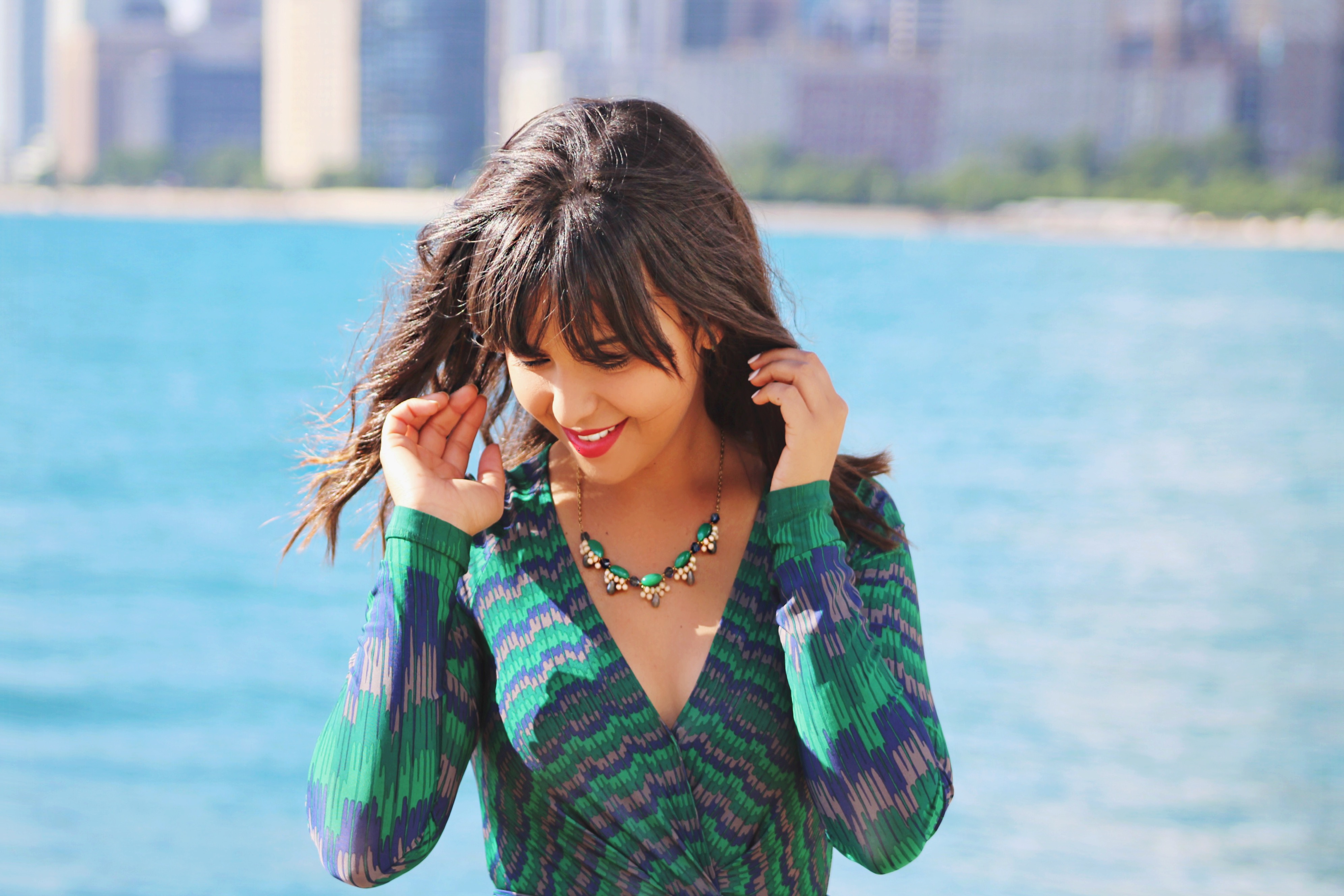 Thanks for taking the time to stop by and enjoy the rest of your week!
Hope you guys like this look and take the time to check out Paisley and Sparrow and all the amazing things they're doing to make the world we live a better place 🙂
XO,
 


---
Hola a todos!!
Como están? Que tal el fin de semana? Como va la semana hasta ahora?
Mil disculpas por no escribir este post el Lunes pero es que de verdad con Lollapalooza se me atraso todo! Jajaja
Con solo decirles que fui los 4 días, y a pesar de que hoy es Miércoles aun no me recupero! Pero bueno, la pase super y de verdad que fue la mejor manera de celebrar mis 29 y si Dios quiere lo hare de nuevo el ano que viene!
Para el look de hoy decidí compartir una de mis piezas favoritas; un wrap dress. Creo que es una pieza que todas debemos tener en el closet porque saca de apuros para cualquier tipo de ocasión. Yo tengo varios porque los uso bastante, ademas que funcionan con cualquier tipo de cuerpo. Sin embargo, lo que mas me gusta de este look y que complementa perfecto este vestido es el collar de Paisley and Sparrow y aun mas bello por la historia que hay detrás de esta gran marca.
Jen, la fundadora de Paisley and Sparrow simplemente tiene la vision de ayudar a cambiar para mejor la vida de alguien con la venta de cada producto. Puedes estar seguro de que con cualquier compra o donación que realices a través de su website vas a estar impactando positivamente la vida de una mujer en cualquier parte del mundo. Las organizaciones con las que ella trabaja ayudan desde mujeres divorciadas con VIH hasta mujeres víctimas de trafico humano. Ademas de que las cosas que vende son bellísimas y de buena calidad. No dejes de visitar el website y revisar lo que ofrecen. Si quieres leer la historia completa puedes visitar este link. 
No es bello este collar? Creo que es una pieza que hace un upgrade inmediato a cualquier outfit! Ustedes que piensan?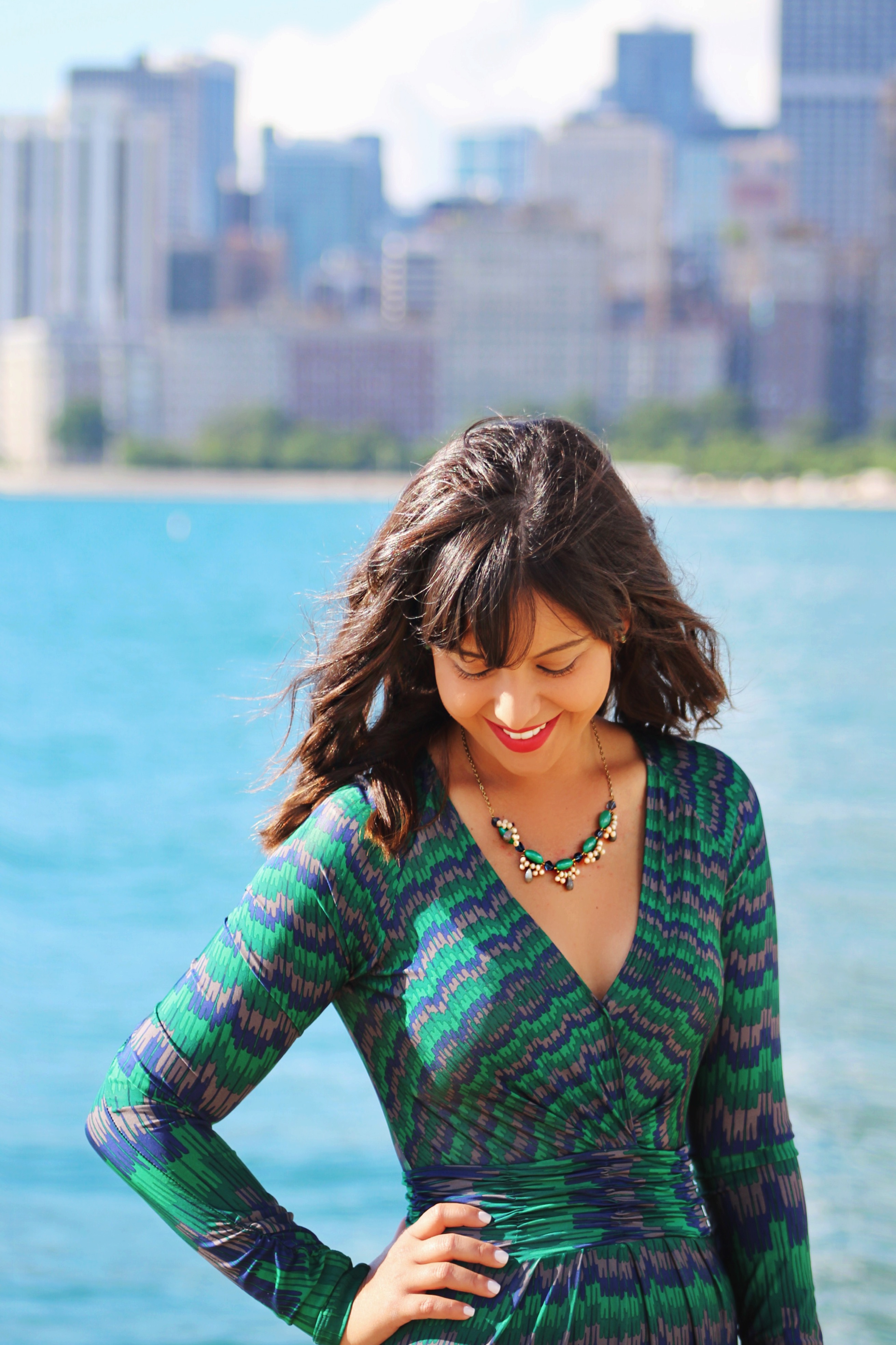 Espero que les guste este look y que tengan un chance de visitar Paisley and Sparrow! Les prometo que les va a gustar!
Un abrazo y mil gracias por visitar el blog!
Disfruten el resto de su semana 🙂
XO,
 


OUTFIT PHOTOS – ALL DOLLED UP WITH PAISLEY AND SPARROW







SHOP THE LOOK AND SIMILAR PIECES
Direct link to the necklace here.