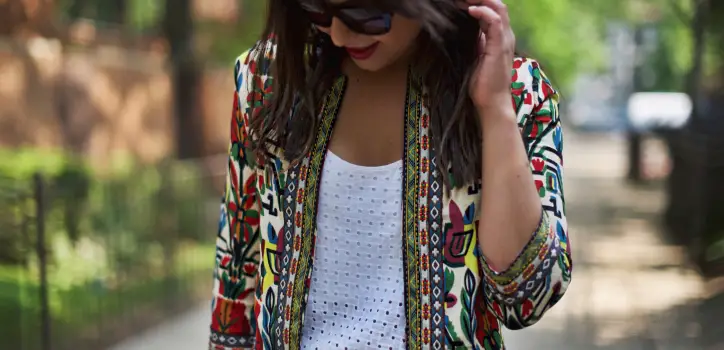 FAVORITE PRINTED JACKET
Hey guys! Happy Monday!
Sorry I've been a little MIA, but life has been crazy lately!
I've been working 10 hours a day plus the blog and events and I just haven't even touch my computer in like three days! So I apologize, but now I'm back!
Starting today, I can call myself a full time blogger and I couldn't be more excited about it.
I'm scared too for the record…
I was listening to a podcast from People Church the other day and I heard something that really made me think about life and all the decisions I've made in the past year and it was this:
"What do you see when your eyes are closed and what do you do when your eyes are open?"
I really sat down and reflected on this, because I believe if you could make a list answering these two questions it gets easier to identify what needs to be changed. Truth is, whatever is in your heart, is not there by coincidence and that's exactly what you see when you close your eyes. But, what happens when you open them? Are the things you're doing today contributing in any way towards who you want to be tomorrow?
I stronlgy encourage you to sit down and think about this. Make sure your answers have something in common, I mean, make sure that what you do when your eyes are open is connected to what you see when your eyes are closed. This my friends, is the secret to happiness.
Well, before I forget, can we talk about this outfit? This jacket is one my favorite pieces! I posted it a while ago and I just checked and is not available anymore!! But, I've linked similar pieces at the end of this post.
What do you think of this look?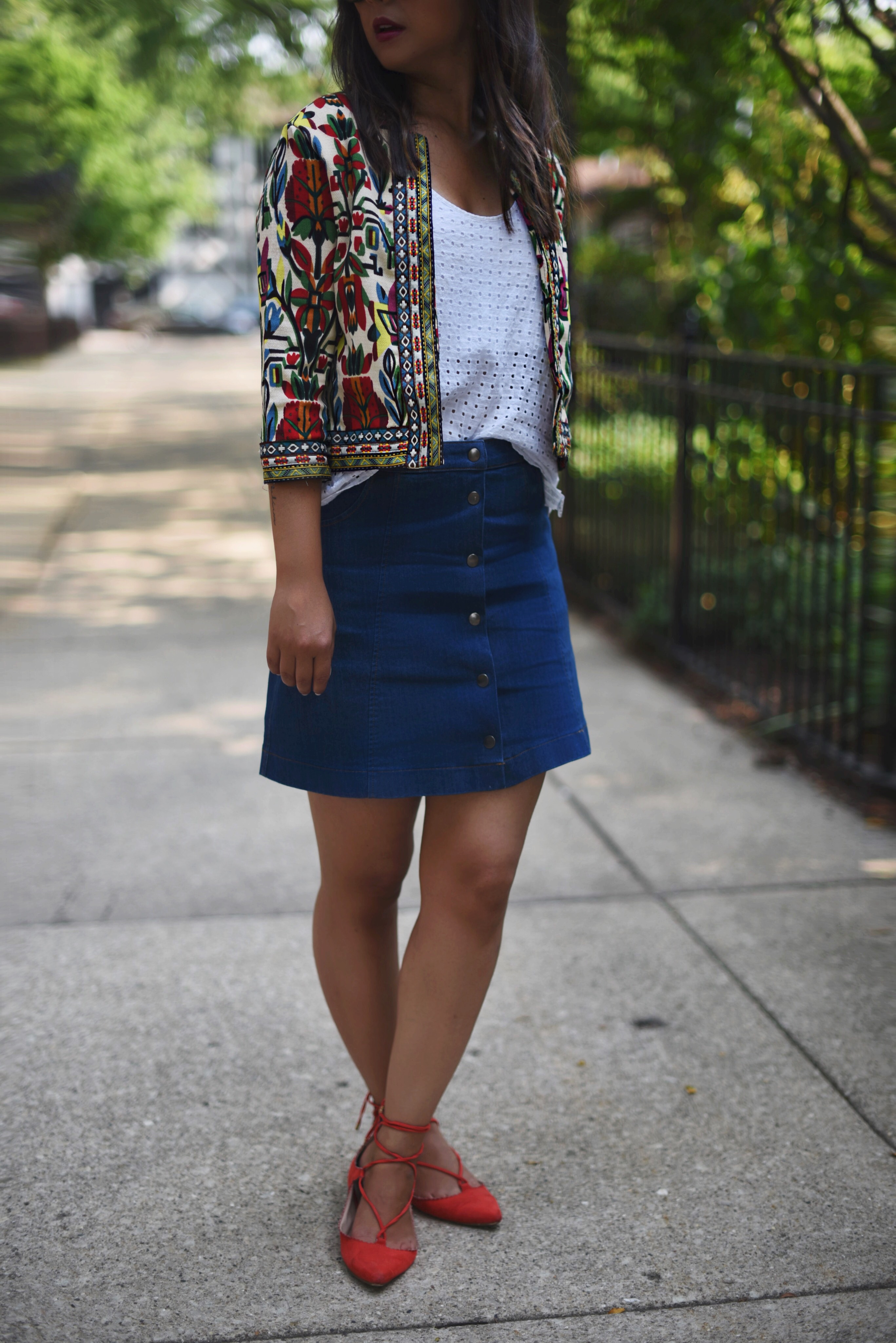 Can't believe Summer is coming to an end! I feel like I did so many great things during Summer that I don't want it to go anywhere! It's a little depressing to think that we have to wait a whole year to experience Chicago during this beautiful season, because if you live here, you know that Chicago is a different city when it gets warm. I think people don't leave Chicago just because of how fun Summer is LOL…
Anyway, is coming to an end and there's nothing we can do about it except to embrace Fall. Which, by the way, I think is the best season because I love the color palette and the weather is just so perfect!
What about you? What's your favorite season?
Well guys, thank you so much for stopping by and have a great week ahead!
XO,
 


---
Hola!
Feliz inicio de semana! Como estan?
Mil disculpas que he estado un poco perdida y la semana pasada no coloque ningun look, pero es que había estado trabajando 10 horas al día, mas todos los eventos, etc. No tuve tiempo para nada! Pero ya esta semana estoy de vuelta y oficialmente a partir de hoy soy blogger full time! Estoy emocionadisima, pero a la vez muy asustada, cosa que creo que es normal cuando haces cambios grandes.
Estaba escuchando un Podcast de People Church el otro día y escuche unas palabras que me marcaron y eran estas:
"Que ves cuando tus ojos están cerrados y que haces cuando tus ojos estan abiertos?"
Escuchar esto me hizo reflexionar bastante y me puse a pensar en las decisiones que he tomado en este ultimo ano. Tengo tiempo ya tratando de tomar decisiones de manera inteligente y tratando de que mis acciones de alguna manera de alineen con lo que esta en mi corazón. No es fácil, de hecho creo que tomar decisiones que te ayuden a cumplir tus sueños generalmente van a ser las mas difíciles de tomar, pero una cosa si se; vale demasiado la pena.
Animense a analizar esto y a hacer una lista respondiendo estas dos preguntas y vean si sus respuestas tienen algo en comun. Les prometo que les va a cambiar la vida cuando empiecen a tomar acciones que te lleven a cumplir lo que desea tu corazón. Alli esta el secreto de la felicidad.
Bueno, ahora la moda. Quería hacer un post con esta chaqueta porque siempre que la pongo en Instagram todo el mundo me pregunta de donde la saque. El link directo esta aquí, pero ya no esta disponible porque la compre hace tiempo, así que al final del post agregue otras opciones similares. Espero que les gusten también 🙂
Que piensan del look completo?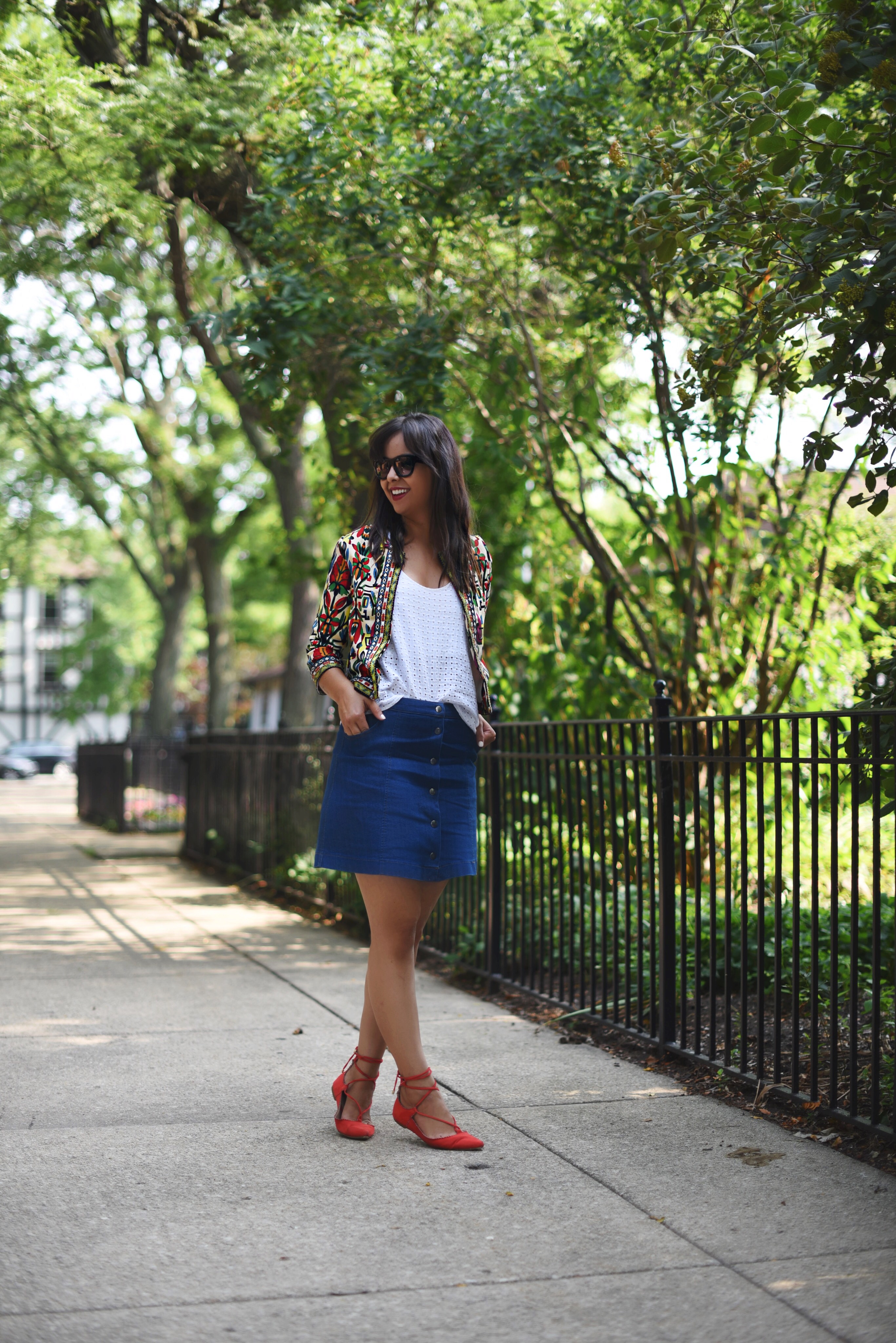 Todavia no puedo creer que ya se va a acabar el verano! No es mi estación favorita, pero si son los mejores meses para estar en Chicago! Hay demasiadas cosas que hacer! Tantas, que no da tiempo de hacerlas todas!
Pero ni modo, hay que aceptar que ya se acabo y darle la bienvenida a lo que si es de verdad mi temporada favorita que es Otono. Es cuando la ciudad esta mas bella y el clima es perfecto! Espero que este ano sea como fue el ano pasado!
Cual es tu temporada favorita?
Gracias por visitar el blog! Que tengan una feliz semana y que todo les salga bien!
XO,
 


OUTFIT PHOTOS – FAVORITE PRINTED JACKET
All photos taken by my babe Ashley (Aka @mushroomstew/Sedbona)










SHOP THE LOOK AND SIMILAR PIECES HERE:
Direct link to the jacket here.